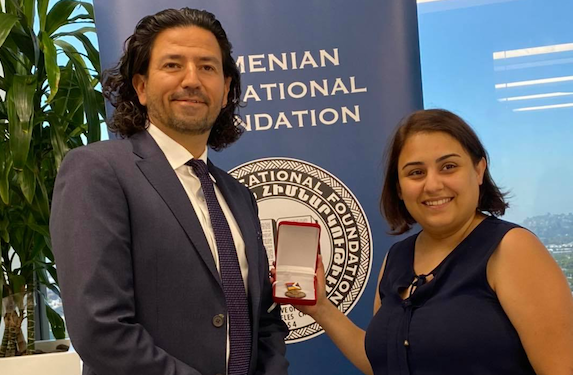 GLENDALE—The Armenian Educational Foundation met with Artsakh's High Commissioner for Diaspora Affairs Azatouhi Simonyan last week to discuss programs being implemented in Artsakh as well as current challenges they face with the education system.
According to the Commissioner, "the new problems that the educational system of Artsakh faces and the measures and the new educational programs developed by the Government of the Republic of Artsakh were discussed with the organization. The AEF has been renovating and rebuilding several dozen schools in Artsakh for years. The organization has also sponsored the education of many Artsakh students."
"Today, the AEF is also involved in the implementation of school-building and student-centered programs in Artsakh. Within the framework of the program, the renovation and reconstruction of schools in the Kaghartsi, Martuni and Nerkin Horatagh communities of Artsakh's Martakert region have already begun," remarked Simonyan.
Simonyan also personally presented the previous President of Armenian Educational Foundation, Peter Baghdassarian, with the "Gratitude" medal award from the President of the Republic of Artsakh for the work the AEF does in Artsakh, and especially during and after the 2020 war.
"The AEF has been working in Artsakh since its independence and we appreciate the recognition of our board and our donors who enable us to continue school renovation projects and our scholarship program," noted Baghdassarian.
The Armenian Educational Foundation is a non-profit organization, established in 1950, with the aim to render financial assistance to Armenian educational institutions, and to provide financial assistance to students of Armenian parentage. To learn more about AEF and its programs please visit the website.