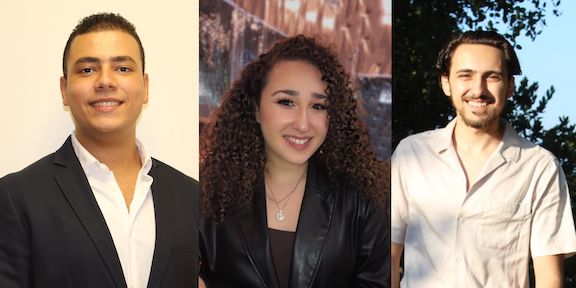 GLENDALE—The Armenian Educational Foundation's Board of Directors and Scholarship Committee announced the 2021-2022 Richard R. Tufenkian Scholarship Award recipients. Three $3,000 scholarships have been awarded to Armenian undergraduate students at accredited United States colleges or Universities. To qualify for this scholarship, students had to be of Armenian descent, have a minimum 3.0 GPA, show financial need, and be actively involved in the Armenian community.
In total, 44 applications were received for the Richard R. Tufenkian Scholarship. The committee diligently reviewed and selected the following three students.
Martin Makaryan (North Hollywood)
Martin Makaryan was born in Armenia in 2000. He is a rising senior at the University of California, Los Angeles (UCLA) majoring in Political Science and minoring in Global Studies with a 4.0 GPA. Martin is currently in the UCLA Honors Program, on the Dean's Honor List, on the UCLA Student Association Elections Board, and in the UCLA Business Law and Investment Society, all while working as a salesperson at Michael's Furniture. Martin immigrated to the United States alone to complete his studies in 2017, while his parents stayed back in Armenia.
Martin has participated in numerous volunteering activities/projects including a summer internship with the ANCA Western Region, as well as serving as an undergraduate research assistant at the UCLA Promise Institute of Human Rights. Martin plans to pursue careers in the field of international relations after graduating from UCLA and hopes to join the U.S. foreign service after receiving an advanced degree. Martin is determined to give back to the Armenian community and to his homeland in every way possible regardless of where he lives or studies.
Christina Chiranian (Sylmar)
Christina Chiranian was born in Los Angeles, California in 2001. She graduated from AGBU Vache & Tamar Manoukian High School in 2019 with an unweighted 4.8 GPA and is currently a rising junior at UC Irvine. Christina is majoring in Social Policy and Public Service (with a focus in Education Policy), as well as double minoring in Armenian Studies and Education, and will be completing her degrees two quarters early, graduating in December of 2022.
Christina has been an active member of her campus' Armenian Student's Association, as well as part of the school's bilingual teacher student's association and a peer advisor for an Education Ethics class. Christina also interns at the ANCA as a Genocide Education researcher and political advocate. Most notably, last year, Christina began developing a website, called ABC Gabig / ԱԲԳ Կապիկ – where kids are able to learn Armenian language, history, culture, and more through games & educational activities. Christina wants to devote her life to the Armenian cause, and the advancement of the Armenian language and culture.
Narek Daduryan (Pasadena)
Born in Pasadena, California, Narek Daduryan has recently completed his Sophomore year at UCLA, with a 4.0 GPA. Narek is pursuing an undergraduate degree in Computer Science from the UCLA school of Engineering. He expects to complete his Bachelor's in June of 2023.
Narek is the recipient of multiple awards and honors, including: UCLA Dean's Honor Award, UCLA DevX Best Project of 2020, member of the UCLA ASA, ExploreTech.LA, as well as holding a board position on the UCLA DevX. After noticing a lack in digital Armenian educational tools, Narek co-founded and developed a project and company called ABC Gabig, an Armenian e-learning program giving Armenian youth an important tool for education.
Narek currently serves as an intern in software development at Microsoft. After graduation, he plans to join the tech industry as a full-time software developer and use these skills to give back to the Armenian community. He also plans to use the scholarship funds to be able to focus more on his project, ABC Gabig.
The Richard R. Tufenkian Scholarship Fund was established by Ralph and Savey Tufenkian in memory of their son Richard. The $230,000 endowed fund has provided over $503,000 in scholarships since 1991. Currently, $14,000 in scholarships are awarded each year, including five full tuition scholarships for students attending public universities in Armenia.
AEF is most thankful to the Tufenkian Family for their commitment to helping Armenians globally through their philanthropy, unconditional love, and continued support of the education and advancement of Armenian youth in the United States and abroad.
As AEF looks with optimism toward the future, it hopes to be of even greater assistance to students of Armenian parentage pursuing higher education, as well as to continue providing financial help to institutions in Armenia, the United States and around the world.
The Armenian Educational Foundation is a non-profit organization, established in 1950, with the aim to render financial assistance to Armenian educational institutions, and to provide financial assistance to students of Armenian parentage.